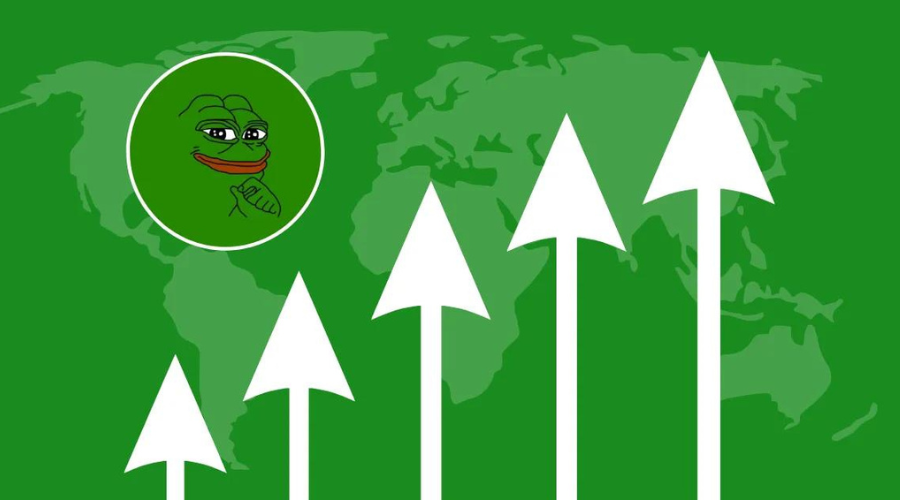 Pepe Coin Price Surges Almost 40% as Meme Kombat is Backed to 10x
Pepe Coin experiences a 40% price surge due to a token burn and new advisors. Meme Kombat gains attention with a unique concept and transparent team, aiming for 10x returns in presale.
Key Takeaways:
Pepe Coin records a remarkable 40% surge in its price, reaching $0.000001025, its highest level since August.
Analysts speculate on a bullish trend reversal, citing a double bottom formation and a falling wedge breakout.
Recent price gains in Pepe Coin attributed to a significant burn of tokens and new advisors joining the project.
Meme Kombat, a new presale meme coin, gains traction with predictions of 10x returns, thanks to its unique concept and transparent team.
Pepe Coin, once an underperformer in the crypto market, has made a surprising comeback, surging nearly 40% in the last 24 hours to reach a price of $0.000001025. This remarkable rally marks its highest value since August, overturning weeks of downward movement.
6.9T $PEPE Tokens worth ~$6,000,000 have been burned. https://t.co/aN5LRUFz8u

A new team of advisors have been brought on to guide Pepe forward. Uses for the remaining 3.79T tokens attributed to the original team CEX multi-sig wallet for strategic partnerships and marketing… pic.twitter.com/JN3ssvH0XL

— Pepe (@pepecoineth) October 24, 2023
Pepecoin Surge
Analysts have been closely monitoring Pepe's price chart, noting the formation of a double bottom pattern and a breakout from a falling wedge. These technical indicators suggest a potential trend reversal and have contributed to the recent price surge. Pepe has also crossed above the 50-day EMA and the monthly volume-weighted average price, reinforcing the bullish sentiment.
What's especially surprising about this resurgence is that Pepe Coin had been on a continuous decline in recent months. However, a recent announcement from the Pepe team played a crucial role in the newfound optimism. The team revealed that they had burned a significant number of tokens—6.9 trillion PEPE tokens, equivalent to $6,000,000 in value. Additionally, a new team of advisors has joined the project, instilling confidence in investors.
This positive development comes after a previous incident where former team members absconded with $15 million from Pepe's multi-signature wallet, severely damaging investor trust. The recent 40% surge reflects a notable recovery.
Recent Fluctuations
Pepe Coin currently boasts a market cap of $381 million and a 24-hour trading volume of $440 million, a 224% increase in the last day. While it's up 32% in the last 24 hours, 48% in the previous week, and 44% in the last month, it remains down 76% from its all-time high in May.
In the midst of Pepe's resurgence, Meme Kombat ($MK) is gaining traction as the next potential star in the crypto world. This new presale project merges meme coins and crypto casinos, allowing users to gamble on AI-generated battles between popular meme coin characters. With a 112% staking annual percentage yield and a fully transparent team, Meme Kombat stands out in contrast to Pepe's past transparency issues.
Meme Kombat's presale has already raised $680,000, drawing attention for its viral potential and lucrative staking APY. Renowned analyst Jacob Bury has labeled it a "10X Potential Crypto," citing his early investment of $1,000 in the project. Given its strong fundamentals and backing from investors, Meme Kombat's presale is expected to sell out quickly, making it an attractive option for those looking to invest before it hits exchanges.
Concluding Thoughts
Pepe Coin's surprising resurgence demonstrates the unpredictable nature of the crypto market. The combination of technical indicators and positive developments within the project has led to a remarkable price rally. However, investors should remain cautious and monitor the project's progress in the coming weeks.
Meme Kombat, on the other hand, is an intriguing addition to the meme coin landscape. Its unique concept and transparent team have garnered significant attention, and its early success in the presale phase suggests it may have a bright future ahead. Investors seeking high-potential projects should keep a close eye on Meme Kombat as it progresses.