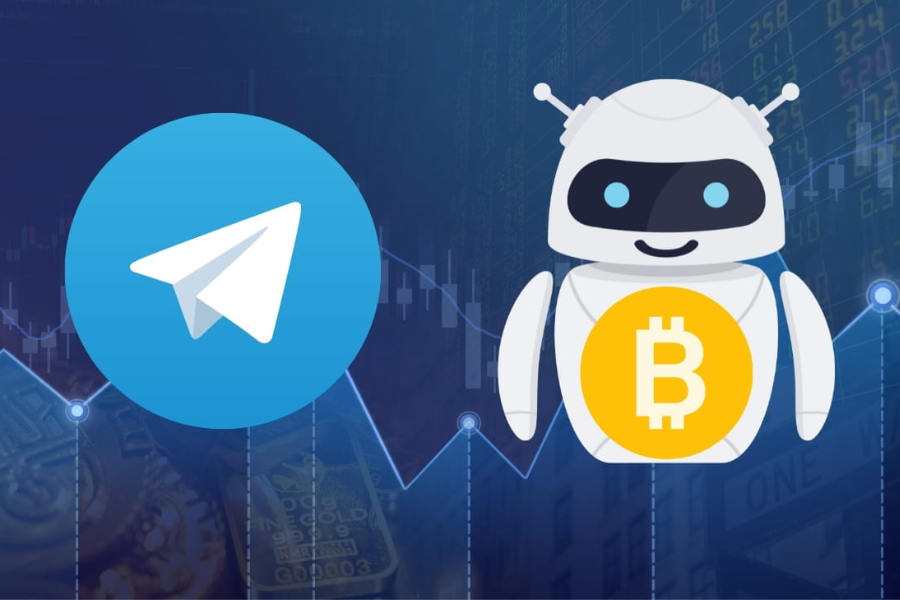 What are Telegram bots, and why are they popular in crypto community?
Telegram bots, offering a multiplicity of functionalities, have positioned themselves as indispensable assets within the crypto community.
Key Takeaways
Telegram bots automate a range of tasks through the messenger's API.
They can perform numerous decentralized finance (DeFi) operations, including trading, managing wallets, searching for tokens, and more.
When prompted, a bot provides a menu to users where they can establish a new wallet or connect an existing one. After setting up a wallet, users can deposit funds and execute various transactions.
Telegram bots have emerged as a pivotal tool in the cryptocurrency community, offering a blend of convenience and functionality to manage various decentralized finance (DeFi) tasks. Let's delve into what makes them stand out and explore their prevalence in the crypto domain.
Core Functionality
Automated DeFi Tasks: Telegram bots cater to a spectrum of tasks including trading, managing wallets, token searching, and farming by interacting with the messenger API.
User Interaction: Upon receiving a command, bots present users with a menu, facilitating tasks like wallet creation/linking, fund depositing, and transaction management.
Noteworthy Bots: Among the popular bots like UniBot, Moonbot, and AIMBOT, the latter particularly has exhibited significant growth in Q2 2023.
Popularity in the Crypto Community
Quick Trading: Enabling swift and effortless buying and selling of various cryptocurrencies like Bitcoin and Ethereum, bots allow users to adeptly navigate market trends and execute trades.
Sending and Receiving Cryptos: Users can manage their crypto transactions effectively, ensuring seamless send/receive functionality.
Crypto Acquiring: Vendors can accept crypto payments through Telegram bots, which can also automatically convert them into fiat currencies.
Market Dynamics
Market Capitalization: At the moment, Telegram bot tokens carry a market capitalization of $91 million, with a 24-hour trading volume surpassing $9.5 million.
UniBot Rise: UniBot (UNIBOT), enabling users to trade on Uniswap V3 within Telegram, witnessed a meteoric rise from $18.18 to $236.43 from June to August 2023.
ChainGPT Performance: ChainGPT (CGPT) has also been embraced by the crypto community, observing its price spike from $0.008 to $0.046 since April 10.
EthSign has partnered with TON to launch the EthSign bot to support contract signing within Telegram so that Telegram can support cryptocurrency services

The underlying protocol of #Fchat supports cryptoc services and all Web3 applications, so we obviously have an advantage pic.twitter.com/MckQLFgjVU

— Fchat (@Freeture_Chat) October 5, 2023
Utilizing Official Telegram Bot
@wallet: Telegram's official bot, @wallet, simplifies the process of buying, exchanging, and transferring cryptocurrencies using bank cards.
Risks and Considerations
While Telegram bots have proliferated due to their user-friendly interfaces and the expedited transactional capabilities they offer, users need to navigate this space with caution due to:
Security Concerns: The digital space is rife with potential security threats and scams, making it imperative for users to validate bot authenticity.
Price Dynamics: The closely tethered price dynamics between Telegram bots and TON (The Open Network's native coin) may also warrant meticulous investment scrutiny.
Conclusion
Telegram bots have emerged as crucial tools in the crypto ecosystem, providing users with a convenient platform for executing crypto transactions, tracking market trends, and even making trades on exchanges, all without leaving the Telegram app. While they offer several advantages, users should be wary of potential risks and always exercise caution when dealing with digital assets.